true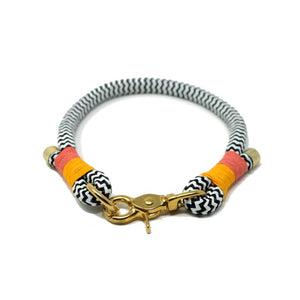 Dog Collar "Tropical- vegan" - not adjustable
The "Tropical-vegan" collar combines a light, summery rope in our unmistakable, minimalist black and white pattern with colorful hemp rigging. Up to two different colors can be individually selected for the rigging, which makes each collar unique! Choose the "Mini" option if you want a small bolt carabiner for your small dog. The "Medium" and "Big" options come with a medium sized carabiner.The collar goes nicely with the Leash "Tropical" or the vegan version "Tropical- vegan" combine.
handmade in Munich
rope diameter ca. 10mm

high-quality carabiners made of stainless steel or brass

* Option "Mini" with a small bolt carabiner recommended for a neck circumference of less than 30cm
* Option "Medium" recommended for a neck circumference of 35cm and more
* Option "Big" recommended for a neck circumference of 46 cm and more
Note: Please round off the neck circumference, if you measure 38.5 cm on your dog, for example, choose 38 cm. To ensure the perfect fit of the collar, please use our Messanleitung.